Presentationabout The Digital Divide IELTS Listening Answers With Audio, Transcript, And Explanation
Luyện tập đề IELTS Listening Practice với Presentationabout The Digital Divide được lấy từ cuốn sách IELTS Practice Test Plus 2 - Test 4 - Section 3 kèm Answer key, list từ vựng IELTS cần học trong bài đọc và Free PDF & Audio Transcript Download với trải nghiệm thi IELTS trên máy và giải thích đáp án chi tiết bằng Linearthinking
👂️ Audio and questions
Answer the questions below.
Write
NO MORE THAN THREE WORDS
for each answer.
What do Sharon and Xiao Li agree was the strongest aspect of their presentation?
Which part of their presentation was Xiao Li least happy with?
Which section does Sharon feel they should have discussed in more depth?
Choose appropriate options
A, B, C.
Sharon and Xiao Li were surprised when the class said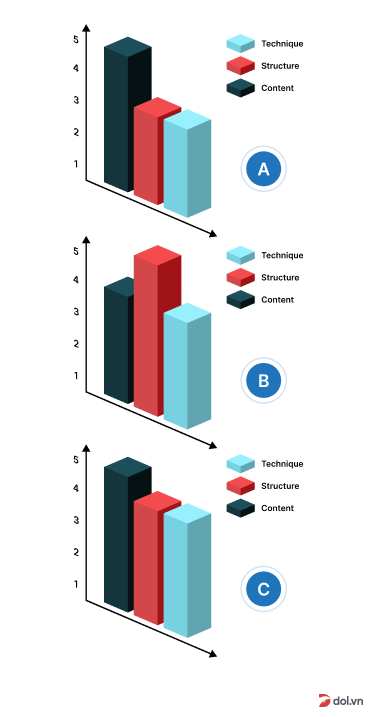 they included too much information.
their talk was not well organised.
The class gave Sharon and Xiao Li conflicting feedback on their
The class thought that the presentation was different from the others because
the analysis was more detailed.
the data collection was more wide-ranging.
the background reading was more extensive
Which bar chart represents the marks given by the tutor?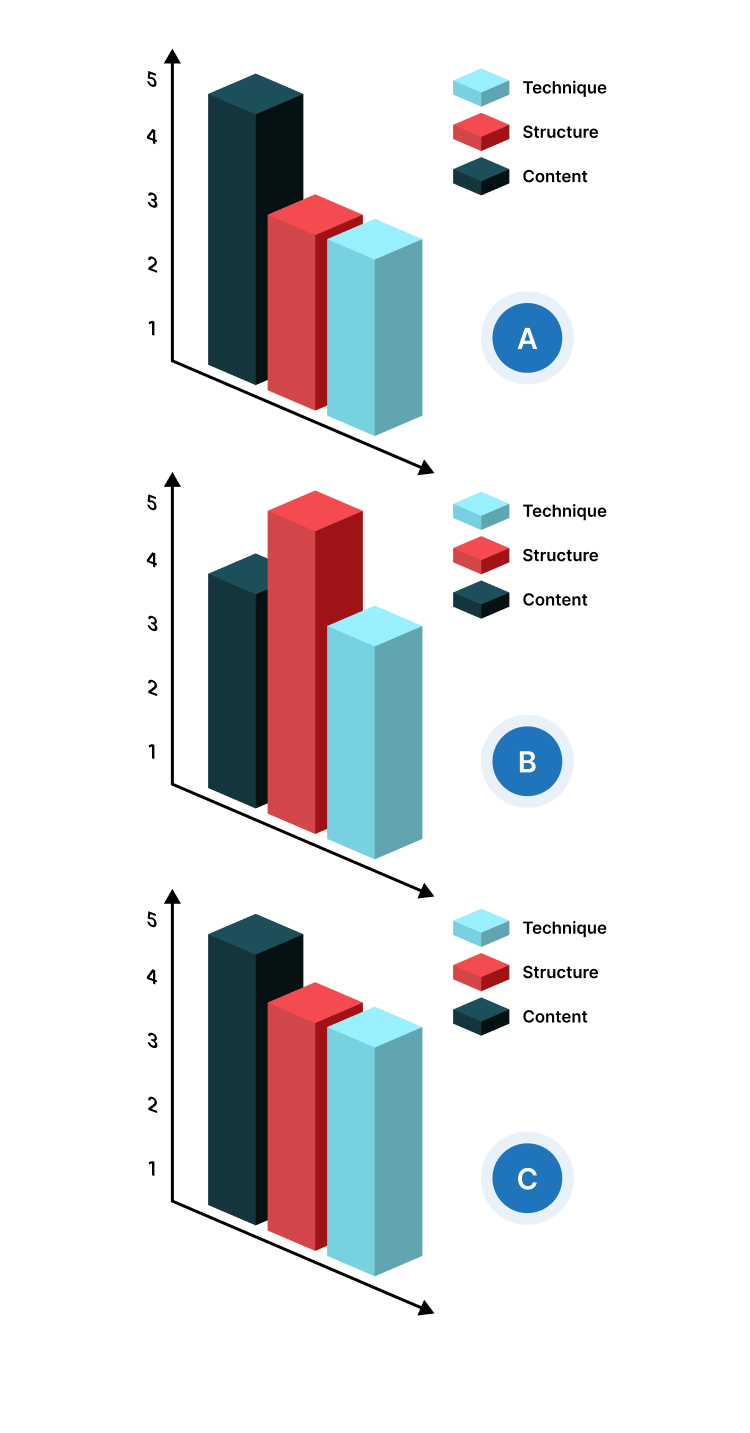 Complete the sentences below.
Write
ONE WORD ONLY
for each answer.
The tutor says that the
of the presentation seemed rather sudden.
The tutor praises the students' discussion of the
of their results.
The tutor suggests that they could extend the
review in their report.
❓ Transcript
Presentationabout The Digital Divide
Tutor:
So. Sharon and Xiao Li, in your presentation last week you were talking about the digital divide - the gap between those who can effectively use communication tools such as the Internet, and those who can't.
Tutor:
And you compared the situation here in Northern Ireland with South-East China. Right, so I asked you to do some sell evaluation, watching the video of your presentation and thinking about the three main criteria you're assessed by - content, structure and technique.
Tutor:
What do you think was the strongest feature of the presentation, when you watched it? Sharon?
Sharon:
Well. I was surprised actually, because l felt quite nervous but when I watched the video, it didn't show as much as I expected.
Tutor:
So which of the criteria would that come under?
Tutor:
That's not actually one of the criteria as such Xiao Li?
Xiao Li:
Technique? It's body language and eye contact, isn't it. Well, I didn't think I looked all that confident, but I think, that our technique was generally good like the way we designed and used the PowerPoint slides.
Tutor:
Mmm. So you both feel happiest about that side of the presentation? OK, now on the negative side, what would you change if you could do it again?
Xiao Li:
Well, at first I'd thought that the introduction was going to be the problem but actually I think that was OK. We defined our terms and identified key issues.
Xiao Li:
It was more towards the end, the conclusion wasn't too bad but the problem was the questions, we hadn't really expected there'd be any so we hadn't thought about them that much.
Tutor:
Uhuh OK. Anything else?
Sharon:
Well, like Xiao Li says, I thought the conclusion was OK, but when I watched us on the video I thought the section on solutions seemed rather weak.
Tutor:
Mmm. Can you think why?
Sharon:
Well, we explained what people are doing about the digital divide in China and Northern Ireland but I suppose we didn't really evaluate any of the projects or ideas, it was just a list. And that was what people were asking us about at the end mostly.
Tutor:
OK. Now, I also asked you to get some peer evaluation, from the other students.
Sharon:
Yes, er, well, people said it was interesting, like the fact that in China the Internet was used more for shopping than in Northern Ireland.
Sharon:
They said sometimes it was a bit hard to understand because we were talking quite fast .. but we didn't think so when we watched the video.
Tutor:
No, it's a bit different though, because you know all this information already. Mmm. If you're hearing it for the first time, you need more time to process it ... that's why signposting the structure and organisation of the talk is important.
Xiao Li:
That seemed OK, no one mentioned that as a problem. Some people said that we could have had more on the slides.. like some ot the other groups had nearly everything they said written up on the visuals as well, ... the slides were good, they had ... me key points
Sharon:
And most people said we had quite good eye contact and body language. They all pointed out we'd over­run .. they all said we were five minutes over but we timed it afterwards on the video and it was only three minutes.
Xiao Li:
We were a bit unsure about the background reading at first, but I think we did as much as we could in the time. Anyway, no one commented on that under content, but one thing that diet come out was that they liked the fact we'd done research on both Northern Ireland and China, most other people had just based their research on one country.
Xiao Li:
We managed to get quite a lot of data from the Internet, although we had to do our own analysis and we did our own surveys as well in both countries. So the class gave us best feedback for content but it was all OK.
Tutor:
Right. Well, that's quite similar to the feedback I'm giving you. I was very impressed by the amount of work you'd done and by your research methodology ..
Tutor:
So actually I'm giving you full marks for content, five. The structure of the presentation was good, but not quite as good as the content, so I gave that four, and the same for technique. So, well clone.
Xiao Li/Sharon:
Thank you
Tutor:
Now, the next stage is to write up your report So just a few pointers for you here. First of all, in your presentation think your ending was rather abrupt - you suddenly just stopped talking.
Tutor:
It wasn't a big problem but think about your closing sentences in your report - you want to round it off well. One thing I forgot to mention earlier was that I felt a very strong point was that after you'd given your results, you explained them limitations.
Xiao Li:
The fact that we didn't have a very reliable sample in terms of age in China?
Tutor:
Yes. that section. So don't forget to include that. And you had some excellent charts and diagrams, but maybe you could flesh out the literature review a bit. I can give you some ideas for that later on if you want. OK, is there anything else you want to ask?
Xiao Li/Sharon:
No . . Thank you. / Thanks.
🔥 Answer key (đáp án và giải thích)
the technique/their technique
Giải thích chi tiết

 Đáp án cần điền là khía cạnh mà cả hai đều đồng ý là tốt nhất
=> Đáp án sẽ tới sau "What do you think was the strongest feature of the presentation"

 Xiao Li nói "our technique was generally good like the way we designed and used the PowerPoint slides."
Cuối dùng tutor nói "So you both feel happiest about that side of the presentation"
=> Cả hai đều hài lòng với phần đó (that side=Technique) => Đáp án: the technique/ their technique

Xem full giải thích