Complete the notes below.
Write
NO MORE THAN THREE WORDS
for each answer.
Research details:
Focus of project: entertainment away from


Choose the correct letters
A-C.
Which chart shows the percentage of cinema seats provided by the different cinema houses?
Which graph shows the relative popularity of different cinemas?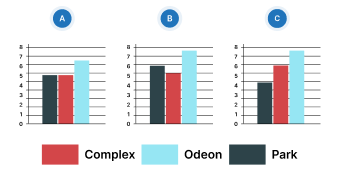 What did Rosie and Mike realise about the two theatres?
The prices were very similar.
They were equally popular.
They offered the same facilities.
Which graph shows comparative attendance for cinema and theatre?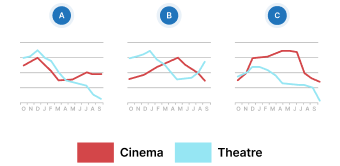 Drag your answers in the option list into the boxes