City Center Field Trip IELTS Listening Answers With Audio, Transcript, And Explanation
Luyện tập đề IELTS Listening Practice với City Center Field Trip được lấy từ cuốn sách IELTS IELTS Trainer - Test 3 - Section 3 kèm Answer key, list từ vựng IELTS cần học trong bài đọc và Free PDF & Audio Transcript Download với trải nghiệm thi IELTS trên máy và giải thích đáp án chi tiết bằng Linearthinking
👂️ Audio and questions
Complete the flow-chart below.
Choose
SIX
answers from the box and write the correct letter. A-I next to questions.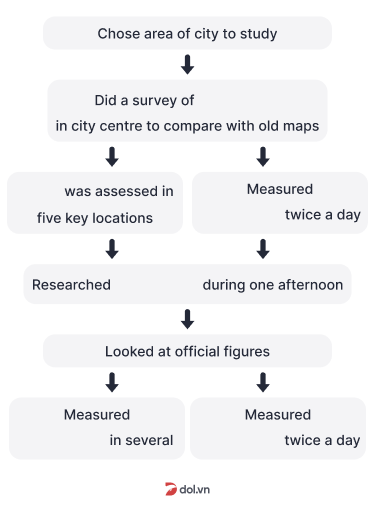 Who will be responsible for each task?
❓ Transcript
Tutor:
Now, Stefan and Lauren. You worked together on the assignment for your Urban Geography course, didn't you? l know you made a plan of what you were going to do before you went on the field trip. Did you stick to it?
Tutor:
OK. So where did you start?
Stefan:
Well, first of all we selected one area of the city to work in - we decided on the centre - and we looked in detail at how it has been developed by doing a survey.
Lauren:
Yeah ...We did that by walking round and dividing the area into different categories such as residential, commercIal and Industrial so we could record land use.
Lauren:
We're going to find some maps from 50 years ago and from 100 years ago so we can look at what has changed.
Tutor:
Good! So that gives you a foundation. Then what did you do?
Stefan:
Um, I was interested in looking at how polluted the city was.
Lauren:
I thought that was too general a topic and would be difficult to check. But Stefan persuaded me and actually it was quite interesting because before we started, we assumed that a lot of the pollution problems would be caused by industry.
Stefan:
In fact, most of the industrial development has been on the outskirts and most pollution is caused by the traffic which passes through the city centre every day. There are five major road junctions around the edge of the city so we set up equipment to check the air quality on each of those three times on one day.
Lauren:
In the morning and evening, which is when most journeys are made in and out of the city, and at 2.30 in the afternoon.
Stefan:
On the same day. we went to the two busiest junctions in the morning and evening to calculate the traffic flow into the city.
Stefan:
We'll be able to produce some graphs from the figures we collected.
Tutor:
Presumably you then looked at where all these cars ended up?
Lauren:
l thought we should look at why people were coming into the city - um, whether it was for employment or education or leisure activities but Stefan thought that would be too difficult.
Stefan:
Because most people were in cars it would be hard to ask them. So we decided to spend an afternoon examining the parking facilities available instead.
Stefan:
We established the capacity of each car park and we spent an afternoon counting cars in and out so we have an idea of how long people spend in the city centre.
Tutor:
So do you have evidence that most journeys are made by car within the city centre?
Stefan:
We checked local government statistics to see if that was true but they were inconclusive.
Lauren:
Everything is quite close together in the city centre and there are wide pavements so you would expect people to walk from one place to another.
Stefan:
So we chose a number of locations and we noted how many pedestrians passed a particular spot.
Tutor:
Um, how did you choose where to do that?
Stefan:
Oh, we stood at two places in the business district, one in the shopping area and the other was in an area where there are more tourists.
Lauren:
I thought it was really important to talk to people so we carried out a survey on how people usually travelled into the city. We asked them about their usual means of transport.
Stefan:
We found out that it varied according to why people were travelling -if they were employed in the city they wanted to get there quickly but if they were coming in for their leisure time they didn't mind using the bus.
...:
Lauren: That's all we had time for while we were there.
Tutor:
OK. So shall we talk about what you're going to do next and how you're going to divide the tasks up? How are you going to present the data you've got?
Stefan:
Well, some of the information can be presented as graphs or maps.
Lauren:
I'm quite good at the software.
Stefan:
You'd better do that then, Lauren. I'll help you check all the statistics before you start.
Tutor:
Um, it's good to present as much as you can visually. Is there anything else you can use as visuals?
Stefan:
Mm ... we've got a lot of photographs which we can go through.
Lauren:
Er, we both took them so some will be duplicated. It's going to take ages to go through them all. Maybe one of us should just choose some.
Tutor:
It's better if you collaborate. That way you'll end up with the best of what you've got.
Lauren:
That's fine. we'll do that.
Tutor:
And, er,when the graphs and maps are done, you'll need to write a report, an analysis of the data. Will you do that together?
Stefan:
I think that should be my responsibility if we're going to share the work out evenly. I can use some of Lauren's notes as well as my own.
Tutor:
OK. And finally, you'll be presenting your project to the rest of the group in a couple of weeks' time.
Lauren:
We thought it'd be better for Stefan to do that as he's got more experience at that kind of thing.
Tutor:
I would prefer to have input from both of you as I have to do an assessment.
Stefan:
We'll take turns then. We'll divide it into sections and talk about a few things each.
Tutor:
Good. You'll find it easier, Lauren, than doing a presentation on your own. Well, if you need to ask me any more questions while you're working on this, email me. I look forward to seeing what you produce.
🔥 Answer key (đáp án và giải thích)
Giải thích chi tiết

 Đối tượng là survey (Did a survey of .... in city centre to compare with old maps"
=> Đáp án sẽ có sau '' ... at how it has been developed by doing a survey.''

 Sau đó, '' We did that by walking round and dividing the area into different categories such as residential, commercIal and Industrial so we could record land use.''
=> Cách khảo sát là họ chia vùng thành các nhóm khác nhau, bao gồm residential (khu dân cư), commercial (khu thương mại) và industrial (khu công nghiệp), để record mục đích sử dụng đất (land use) => Đáp án là C

Xem full giải thích