Computer System IELTS Listening Answers With Audio, Transcript, And Explanation
Luyện tập đề IELTS Listening Practice với Computer System được lấy từ cuốn sách IELTS Official Cambridge Guide to IELTS - Test 1 - Section 3 kèm Answer key, list từ vựng IELTS cần học trong bài đọc và Free PDF & Audio Transcript Download với trải nghiệm thi IELTS trên máy và giải thích đáp án chi tiết bằng Linearthinking
👂️ Audio and questions
Choose the correct letter,
A, B
or
C
.
Dave hadley says that the computer system has
The main problem with the computer system is that it
Timetabling has become an issue because
there is not enough time for anyone to do it.
the system does not handle course options.
the courses are constantly changing.
To solve the timetabling issues, Randhir suggests that
students should create their own timetables.
Dave should have someone to assist him.
the number of courses should be reduced.
Randhir says that a new system may
Improving the existing system will take
Complete each sentences with correct ending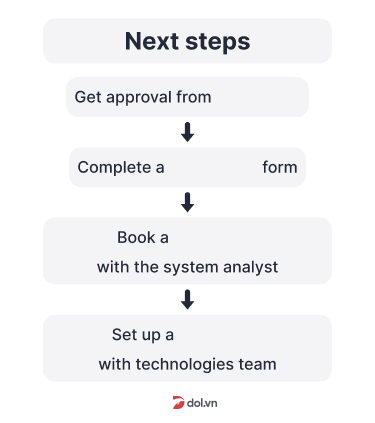 7
8
9
10
❓ Transcript
Randhir:
Hello - I'm Randhir Ghotra from the technologies department.
Dave:
Ah yes. Good. I'm Dave Hadley. Thanks for coming to see me.
Randhir:
That's OK. I believe you want us to do some work for you?
Dave:
Yes that's right. Um, I'm responsible for student admissions to the college and I use a computer system to help process student enrolments and to do the timetabling.
Dave:
But it really doesn't suit the way we work these days. It's over ten years old and although it was fine when it was first introduced, it is just not good enough now.
Randhir:
OK - what problems are you experiencing?
Dave:
Well, 20 years ago, the college was quite small and we didn't have the numbers of students or tutors that we have now.
Randhir:
So the system can't handle the increasing volumes ...
Dave:
Well, there's a lot more data now and it sometimes seems the system has crashed but, in fact, it just takes ages to go from one screen to the next.
Randhir:
Right. Is that the only problem?
Dave:
Well that's the main one, but there are others. In the past, doing the timetabling was quite simple but now we have a lot more courses and what's made it complicated is that many of them have options.
Randhir:
Right - but the system should allow you to include those.
Dave:
Well no, it doesn't. It was supposed to - and a few years ago we did ask someone from the technologies department to fix it, but they never seemed to have the time.
Randhir:
Hmm ... are there any other issues with the system?
Dave:
Well – I've been given extra responsibilities and so have even less time to do the timetabling. If there was anything you could do, Randhir, to make the process more efficient, that would be really helpful.
Randhir:
Well it sounds like you could do with an assistant but that's obviously not possible, so what about having an online system that students can use to do their scheduling?
Dave:
How would that work?
Randhir:
Well – it may mean less choice for students but we could create a fixed schedule of all the courses and options and they could then view what was available ...
Dave:
... and work it out for themselves - that sounds great.
Randhir:
OK, so ... um... we'll need to decide whether or not to improve the existing system or to build a completely new system.
Dave:
Well I'd much prefer to have a new system. Quite frankly, I've had enough of the old one.
Randhir:
OK - that'll probably take longer although it may save you money in the long run. When were you hoping to have this in place?
Dave:
Well it's January now and the new intake of students will be in September. We need to start processing admiss in the next few weeks really.
Randhir:
Welt will take more than a few weeks, I'm afraid. As an initial estimate I think we'll be looking at April or May to improve the existing system but for a new system it would take at least nine months. That would be October at the earliest.
Dave:
What are the next steps if we are to have a new system?
Randhir:
Well, the first question is - do you have support from your senior management?
Dave:
Yes, I've already discussed it with them and they're also keen to get this work done.
Randhir:
OK, because I was going to say, that's the first thing you need to do and without that we can't go ahead.
Dave:
Yes, I've done that.
Dave:
Actually, they mentioned that there's probably a form I need to complete to formally start the project.
Randhir:
Yes - that's the next thing you need to do. I'll send you an email with a link so you can fill it in online. It's called a "project request form".
Dave:
OK great. And then what happens?
Randhir:
Well, I have a list of things but I think the third thing you should do is see Samir. He's our analyst who will look at the system and identify what needs to be done.
Dave:
OK - can you send me his contact details and I'll set up a meeting with him.
Randhir:
OK that's good, so we should soon be able to get a team together to start the work. Some members of our team work in different locations so it's not easy to have face-to-lace meetings.
Dave:
That's OK - I'm used to having conference calls providing they are not late at night.
Randhir:
Righi - so I'll send you details of the team and if you could set up a call that would be great.
🔥 Answer key (đáp án và giải thích)
Giải thích chi tiết

 Đối tượng của câu là hệ thống vi tính (computer system has)
=> Đáp án sẽ có sau '' ... I use a computer system to help process student enrolments and to do the timetabling.''
 Đầu tiên Dave đưa thông tin là ''It's over ten years old and although it was fine when it was first introduced, it is just not good enough now.''
=> Bạn để ý Dave có bảo là nó có chạy tốt vào lúc đầu, không phải là nó chưa bao giờ chạy tốt => Loại đáp án B

=> Hệ thống đã hơn 10 năm tuổi rồi mà giờ nó đã không còn đủ tốt (lỗi thời). => Đáp án là C (oudated)

Xem full giải thích