IELTS Writing Task 1 World forest in five different regions
Bài mẫu sample IELTS Writing Task 1 ngày 10/10/2019: The charts give information about world forest in six different regions
🚀 Đề bài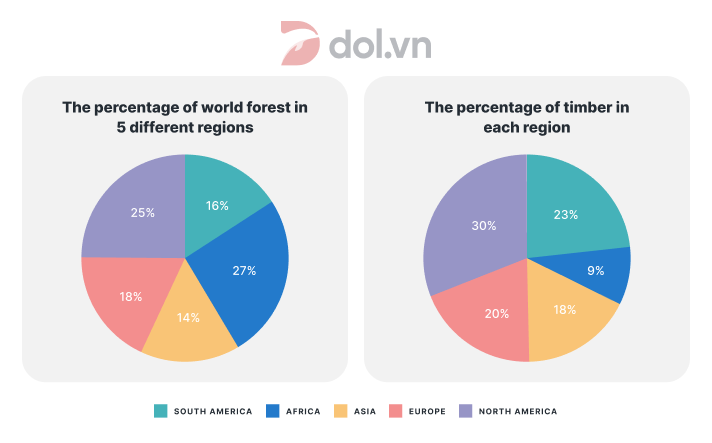 📝 Bài mẫu
The pie charts
the
and
in six major regions.
The
from the graph is that North America
in timber production among six places. Meanwhile, a majority of world forest is located in Africa but this region
.
With respect to the first pie chart, 27% of forest around the world is in Africa,
. This was followed by North America, where one-fourth of the world's forests are. The other three regions namely, Europe, South America and Asia share 18%, 16% and 14% of world forest in turn.
The second chart reveals that the Americas hold more than 50% of the world's timber with 33% in the North and 23% in the South. Regarding Europe, the continent is home to one-fifth of the timber in the world. 18% of the world's timber is in Asia, which is double the figure for Africa with
.
(170 words)
📚 Vocabulary
Delineate the distribution of...
/dɪˈlɪniˌeɪt ðə ˌdɪstrəˈbjuʃən ʌv.../
(verb). Cho thấy sự phân phối...
Contribute the least to the world timber quantity
/kənˈtrɪbjut ðə list tu ðə wɜrld ˈtɪmbər ˈkwɑntəti/
(verb). Đóng góp ít nhất cho số lượng gỗ thế giới
(verb). Đầu tiên trong danh sách